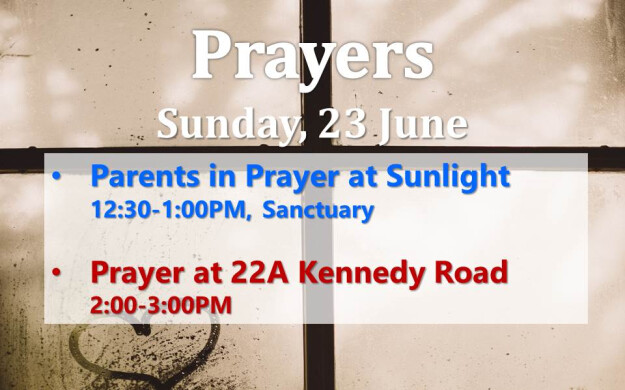 Prayers on Sunday, 23 June
Sunday, 23 June, 2019 12:30pm - Sunday, 23 June, 2019 3:00pm
Prayer at 22A Kennedy Road,Sunday 23 June, 2:00PM-3:00PM
Join us at the Union Church 22A Kennedy site. Those attending the prayer session will be granted access to the area immediately behind the church where Sunday school was held. If you would like to attend this session, please register by contacting Charles Caldwell via email:
charlesbdcaldwell@gmail.com
.
Parents in Prayer, Sunday 23 June, 12:30PM to 1:00PM, in the Sanctuary
We would like to invite all Union Church parents to join us for an opportunity to pray for our children immediately after the 11:15AM service. Please join us as we lift up our children (adult children too) and families in prayer. All are welcome. Parents in Prayer will be on a break for the month of July and will resume on 18 August. We encourage parents to continue to lift up your children in prayer.