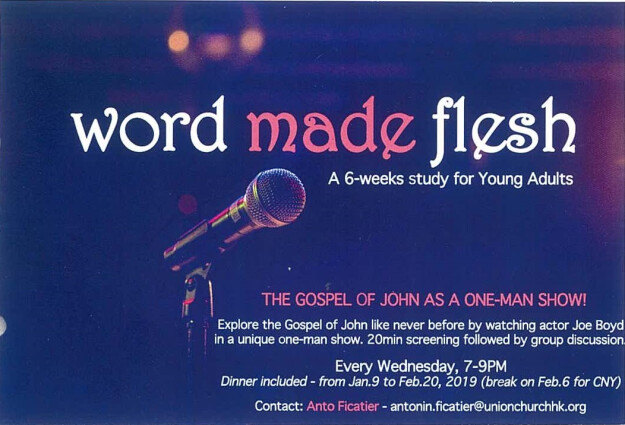 "Word Made Flesh": The Gospel of John as a one-man show!
Tuesday, 12 February, 2019 7:45pm - Wednesday, 20 February, 2019 9:00pm
A new 6-weeks Bible study for Young Adults.
Actor Joe Boyd explores the mysteries of the Gospel of John in a one-man show that utilizes his unique balance of comedy, sincere drama, and historical insights crafted over decades of studying the text and performing on stages across the US.
Join Anto for this new study that will take place every Wednesday, starting in January, for 6 weeks.
Every screening will be followed by a group discussion.
Wednesday Night (as part of ReCharge), from Jan.9 to Feb.20, 2019 (with break on Feb.6 for CNY) 7:00PM dinner, 7:45-9PM study Email Anto Ficatier for more information!