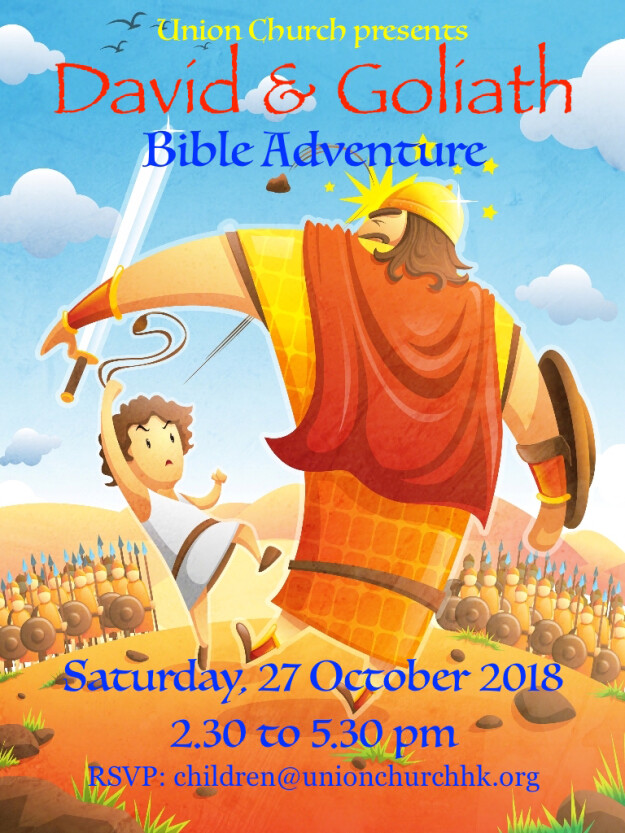 "David & Goliath" Bible Adventure Hallelujah Party
Saturday, 27 October, 2018 2:30pm - Saturday, 27 October, 2018 5:30pm
Union Church Kingdom Kids presents "David & Goliath" Bible Adventure Hallelujah Party for children ages 1 to 11 years old.
Join us for a fun filled afternoon of live performance by Dove Tales Theatre, balloon twisting, games and prizes, face painting, cotton candy and snacks!
Date: Saturday, 27 October 2018
Time: 2.30 pm to 5.30 pm
Dress Theme: Bible Characters (Moses, Pharaoh, David, Goliath, shepherds, Roman soldiers, be creative!..)
Bring Snacks to share (NUT Free) and bring your FRIENDS along too!
How to get here:
Wanchai MTR - Exit A3
Bus Routes: 1P, 6, 6A, 6X, 10, 15, 66, 90C, 109, 113
Minibus Routes: 24A, 24M, 35M, 56, 56A
Car Park:
* Sunlight Tower car park (via Tai Yuen Street)
* The Zenith Car Park (via Tai Yuen Street)