Welcome to the Confirmation and Teen Baptism Program at Union Church!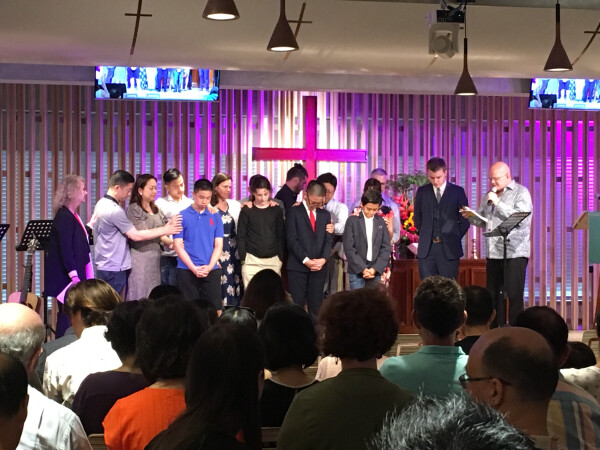 (Youth Confirmation 2019)
This program is open to youth between 12 to 17 years-old, and is supervised by the Youth Director of Union Church. Below is a FAQ that should help you to understand this program better.

What should I expect from the Youth Confirmation program?
The Confirmation program is a year-long program committed to teaching youth aged 12 and older the essentials of what it means to live their life in Christ. It is a meaningful opportunity to experience spiritual formation and forge deeper relationships inside and outside church.
Do we have to confirm once we enroll in the program?
No. Youth who enroll are called 'candidates' and do not have to pledge that they will be confirmed at the end of the year. The program is an exploration of the Christian faith that should lead to an informed and personal decision from the youth whether to confirm their faith in Christ or not.
What is the difference between Confirmation and Teen Baptism?
Youth who have already been baptized will do confirmation, while youth who have not been baptized will do 'youth baptism' (which has the same value as an adult baptism).
But the program is the same!
I want my youth to be part of the confirmation.
Great! But have you checked that your youth is willing to participate? We've learned from experience that it is not good practice to force youth into the program.
Also, be aware that attendance to important events and activities is required!
How can I enroll?
As you can see on the Confirmation Infographic, the process for confirmation is simple. You first need to register by sending an email to . We will then pair the candidate with a mentor, who will meet on a regular basis with him/her. At the end of the year (in May) we do an awesome spiritual retreat, and participation to the retreat is required.
Thank you for considering joining the Confirmation and Youth Baptism at Union Church!