Hello and welcome to Union Youth Ministries!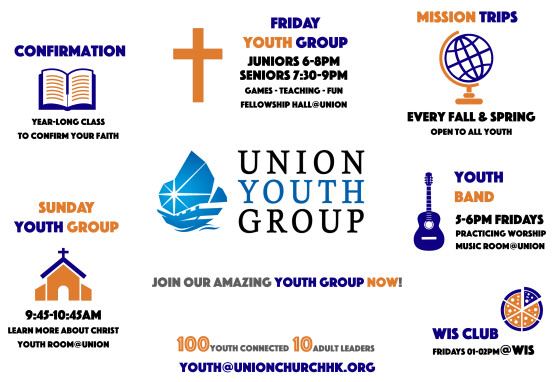 Youth at Union offers a wide array of opportunities and events for those aged 11-18, and also University students. Below are some details, and if you have any questions please email us at , and check out any new events here
Youth Group
Friday nights 6-9PM

Great time for youth ages 11-18 to come hangout, play games, learn about the Christian faith and have dinner with each other.
Schedule

Junior High (ages 11-13) Arrive at 6PM to play games, hear announcements, eat dinner in community with the rest of the youth and receive a message rooted in scripture before leaving at 8PM
Senior High (ages 14-18) Arrive at 7:30PM to eat and hangout with the Junior High youth, then break up into Crews for small group discussion based on the message delivered during dinner. After this they have the opportunity to play games, and then are welcome to stick around until 10:00 in the youth lounge to just socialize
Sunday Life
Sunday Mornings 9:30-10:30AM

All ages will meet in the Youth Lounge to watch a short video from the NOOMA series. We then break up into small groups for discussion.
Missions
An important element of any ministry, Union Church is committed to giving Youth the opportunity to serve their greater community via mission trips through East Asia. We conduct a mission trip in the Fall with youth and their families, as well as a more specifically youth oriented Spring Check in with any of the Youth Team if you have any questions!
Christian Clubs
Youth in Hong Kong invariably spend most of their time at school, and so the Youth Team is looking for ways to engage students as much as possible at the schools themselves. A part of this is Christian Clubs, created by students and mentored by adults, to bring the Union ministry to the school setting. We currently meet with students at West Island School at 1PM on Fridays, and HKIS High School on Wednesdays after school.
Confirmation
A one-year journey for youth aged 12 and older to publicly confirm their faith in Christ. Will involve adult mentorship, small group discussions and active retreats. Registration ends September 11th!
The Youth Staff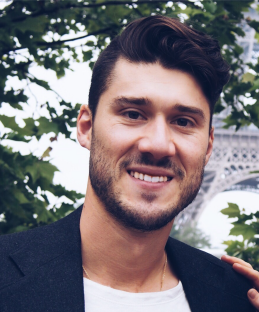 Youth Director – Antonin Ficatier
Anto just graduated from Princeton with a Master in Christian Education, and is very excited to be in Hong Kong with his wife Jess.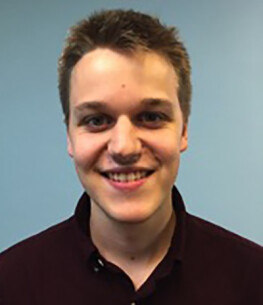 Assistant Youth Director
Born in South Korea but raised in the United States and Hong Kong, Hunter just recently graduated from Elon University with a BA in History.
To register your child to any Youth Ministry activities, please fill-out the form online here.