Children's Ministry Summer Program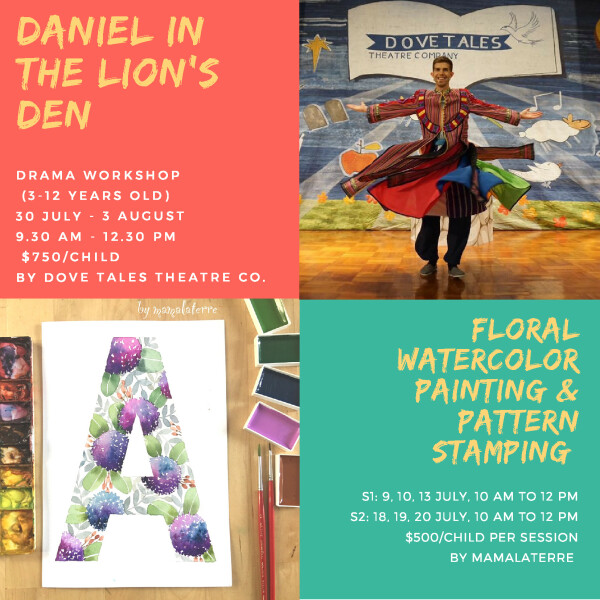 For families who are around this summer, we have some exciting weekdays children's program line up as follow:

Program 1 - Floral Alphabet Watercolor Painting Course (6-12 years old) & Pattern/Animal Stamping (3-5 years old) with By Mamalaterre.
Session 1: Mon, Tues, Fri / 9, 10, 13 of July, from 10:00AM to 12:00NN, cost HK$500 per child.
Session 2: Wed, Thur, Fri / 18, 19 , 20 of July, from 10:00AM to 12:00NN, cost HK$500 per child.
[Program 1 is FULL - Sign-up Closed.]

Program 2 - "Daniel in the Lion's Den" Drama workshop (3-12 years old) with mini performance at the end of the workshop, taught by Dove Tales Theatre Company.
Session 1: Mon - Fri / 30 July - 3 Aug, from 9:30AM to 12:30PM, with mini performance for families on Friday, 3 Aug at 12:00NN. Cost HK$750 per child. (Please sign up here)

Space in the Summer Program will only be reserved once payment is received in full.

You can pay by check (named at: Union Church). Please write program and session and name of the child at the back of the cheque.
Send it by mail to the accounting department of Union Church (Sunlight Tower, 18/F, 248 Queen's Road East, Wan Chai) or drop your payment in the payment box located at Union Church's Welcome Table.