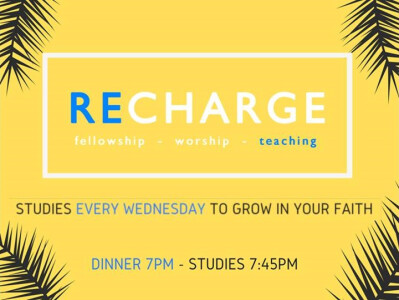 ReCharge
is a weekly night at Union Church where we fellowship, worship, and study.
Join us on Wednesdays:

From 8 May to 5 June
7:00PM - dinner
(suggested donation towards the cost of food: $80)
7:30PM - worship
7:45PM-9:00PM - classes
Parables of Jesus: Study for Youth
For the next 5 weeks we will be studying the parables of Jesus. We will look at the context in which Jesus taught them, gaining a better understanding of their meaning and how they apply in our lives. We will read the parables together, and also have time to discuss how they speak to us personally. This class is geared towards Youth (ages 11-18).
Faith in the Midst of Suffering: Learning with Job
Job is a man who knows suffering--he loses everything! In Job's story we hear questions all of us ask: Why do terrible things happen?
Who is really in control?
How do we comfort those around us in pain?
Dare we risk living and loving after great loss?
Join us as we ask these questions and more, not seeking answers as much as faithful ways forward, trusting in the God who created and sustains this beautiful but risky world.
Big Picture: a new study about the Bible (for Young Adults)
We all have questions about the Bible: What is it? Who wrote it? When? Why? In this new 5-week study Anto Ficatier (Young Adults Director) and Tyler Cox (Theology teacher at ICS) will present a "big picture" overview of the Bible, with historical, theological, and practical insights. Each session will be highly interactive and will spark great conversations!
Recharge your Family
Recharge your Marriage: Effective Communication, Dr Erica Liu Wollin and Pastor Wade Wollin on Wednesday, 22 May, dinner 7:00PM, talk 7:45PM.
Recharge your Parenting: Technology and Family,
Anto Ficiater on Wednesday, 29 May, dinner 7:00PM, talk 7:45PM.
Recharge your Parenting: Parenting Teens, Josh Powell on Wednesday 5 June, dinner 7:00PM, talk 7:45PM.