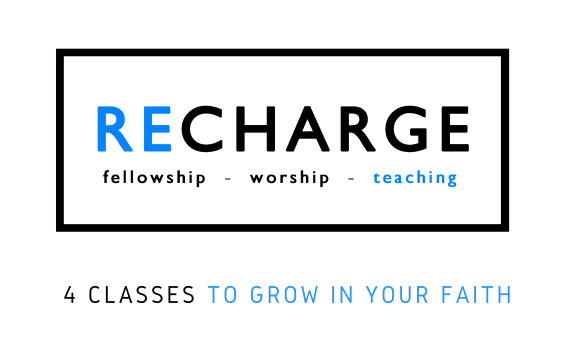 Recharge is our Wednesday night gathering for fellowship, dinner, worship, and study. We are taking a break for the holidays, but are so excited about the new line-up for 2019!
Join us on Wednesdays:
7:00PM – dinner (suggested donation towards the cost of food: $100)
7:30PM – worship
7:45PM-9:00PM - classes
Beginning 9 January: Stephen's Ministry, Young Adults: "Word Made Flesh", Good and Beautiful God (our church-wide study) and Prayer: Connecting to the Father's Heart.
Prayer: Connecting to the Father's Heart
"Prayer should not be regarded as a duty which must be performed, but rather as a privilege to be enjoyed, a rare delight that is always revealing some new beauty." - E.M. Bounds Sometimes we all get into a rut, and need encouragement in recovering "the love you had at first" (Revelation 2:4). Join us as we start off the new year with a series on prayer, including meditative prayer, Jewish prayer and prayer journaling.
Stephen's Ministry Training
Union Church has become a Stephen's ministry church and is kicking off a new training series to train Stephen's Ministers. This 50 hour pastoral care training is a complete system for training and organizing laypeople to provide one-to-one Christian care to hurting people in and around our church. Pastor Michele Bland is excited to lead this, there may be additional study required.
(Please reach out directly to Ps.Michele for more information and for registration.)
"Word Made Flesh": The Gospel of John as a one-man show!
A new 6-weeks Bible study for Young Adults.
Actor Joe Boyd explores the mysteries of the Gospel of John in a one-man show that utilizes his unique balance of comedy, sincere drama, and historical insights crafted over decades of studying the text and performing on stages across the US. Join Anto for this new study that will take place every Wednesday, starting in January, for 6 weeks. Every screening will be followed by a group discussion.
Wednesday Night (as part of ReCharge), from 9 January to 20 February, 2019 (with break on 6 February for CNY)
7:00PM dinner, 7:45PM-9:00PM study
Email Anto Ficatier for more information!
The Good and Beautiful God
We all have ideas we tell ourselves about God and how he works in our lives. Some are true - but many are false. In this study we will put our ideas to the test and see if they match up with what Jesus himself reveals about God, and engage in spiritual practices that can help us grow in the knowledge of our good and beautiful God. Books available at the Welcome Table. Preparatory reading is encouraged to get the most out of this study!
(Please click here to go to the event page for registration.)
Registration is also available at the Welcome Table every Sunday, or you can fill-out the form below: